Best Foods For The 4th Of July - Best 4th Of July Party Dishes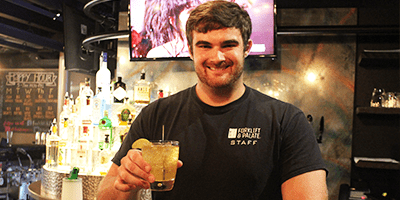 When you want to celebrate everything red, white and blue, the greatest way to do so is with a cookout. The best 4th of July food is, of course, from the grill. In almost all parts of the country, July means lovely weather — what better way to celebrate American Independence than with an All-American barbecue?
What to Serve at Your 4th of July Cookout
Get ready to fire up your grill and dine alfresco. Great options for this holiday are classics like hot dogs, burgers, steaks, and ribs. If you're grilling steaks — or any meat — make sure you use a meat thermometer to cook everything perfectly. Check out this cheat sheet to help you figure out the right "doneness" of steak.
When getting ready to make 4th of July food favorites, don't forget to make some vegetables, too. The best 4th of July cookout food can be grilled vegetables and even fruits. Throw some veggie skewers on the grill or make veggie pizzas, roasted vegetables, grilled corn, and other no-meat options. Not only are they a great choice in case you have any vegetarian or vegan guests, but vegetables on the grill are packed with flavor and a healthy option for anyone who's watching what they eat.
Extra, Extra!
The grill may be the star of the show, but don't forget some cooling sides. Favorites for 4th of July cuisine include potato salad, macaroni salad or even macaroni and cheese. Just remember to keep cool foods — like salads with mayo — cool while you cook, then pop them back in the fridge instead of leaving them out.
An All-American Sweet Tooth
Before the fireworks start, you'll want to enjoy some dessert. This is where you can really get creative. Make a fruit salad of strawberries and blueberries for a healthy treat and add some whipped cream to go with the red, white and blue color scheme of the holiday. You can even create the same color scheme using food coloring if you're making cookies, cakes, and other sweet treats.
Drinks
Grilling is thirsty work, and you'll want to raise a glass to friends, family and country, so be sure to have plenty of drinks on hand. Iced tea or lemonade are perfect summer drinks to cool you down. If you're feeling patriotic, lift a glass of cheer with a New England beer.
Take the Party to Forklift & Palate
Sometimes, you don't want to grill at home. Maybe you're not ready for the setup and clean-up a big crowd requires, or perhaps you don't have the right backyard for the cookout you want. Why not leave the cooking to the experts?
Forklift & Palate is conveniently located in the Spooky Nook Sports complex, and we offer plenty of seating, as well as a space for private parties. Browse our menu or make a reservation today.