PRIVATE PARTY RENTAL SPACE AVAILABLE
LEARN MORE ABOUT OUR PRIVATE PARTY RENTALS IN THE LANCASTER, PA, AREA
Do you live in Lebanon, Manheim or Harrisburg? Are you searching for a party rental space near your home that can host a reunion, anniversary or birthday celebration? Consider Forklift & Palate, the on-site restaurant at Spooky Nook Sports, for all your rental needs. We have private accommodations for parties of all sizes that will allow you to put on the perfect get-together.
Forklift & Palate works with you to offer a party rental space that fits your requirements. We take care of the small details on the day of the party so you can spend your time with your guests, sharing in the laughter and emotion of the big event. When you rent a private party area, you also get an affordable price you can embrace. And if you have guests coming from all over the state, they'll appreciate the centralized Manheim location of Forklift & Palate.
WHY USE A PARTY SPACE RENTAL OUTSIDE YOUR HOME FOR A PRIVATE PARTY?
It's possible to put on a party at your house. But it's much more convenient to do it at a full-service restaurant like Forklift & Palate. We've done so many party rentals for residents of Lancaster, Lebanon and surrounding areas that we know exactly how to ensure this will be the best experience for your guests.
We can help you figure out things such as how much food you'll need and how many tables. When you rent from us instead of holding a party at your home, you also get other benefits, such as:
Avoid post-party clean-up: You can leave the mess with us.
Staff at your service: We can do things such as check on the food so you can stay with your guests.
Enough space: If you have a smaller house or apartment, you may have to curtail the guest list, but you won't have that problem at our spacious venue.
Neighbor complaints: At home, neighbors might grow annoyed about all the noise, but no one at Forklift & Palate will complain.
Plus, we're located right alongside all the fun at Spooky Nook Sports. You can invite your guests to accompany you after the party for indoor climbing or a visit to the arcade.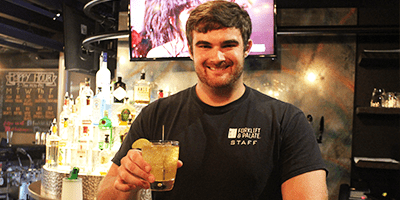 RESERVE YOUR RENTAL SPACE FOR PARTIES NEAR HARRISBURG, HERSHEY & LANCASTER TODAY
Plan your party the easy way. Enlist the help of Forklift & Palate, one of the best restaurants in the Harrisburg area and a place you will want to come back to again after the party is over. We can assist you in making this the best party you've ever hosted, as well as the most effortless. Get in touch with us today to discuss availability and cost.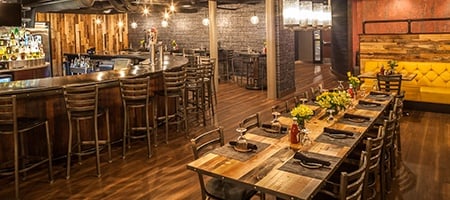 Unique Dining Experience
Enjoy a one-of-a-kind dining experience in a repurposed industrial warehouse.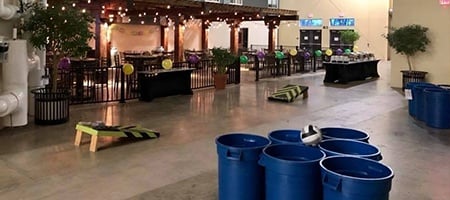 Parties & Events
Are you searching for a party rental space that can host a reunion, anniversary...