5 Great Central PA Recipes to Try for Fall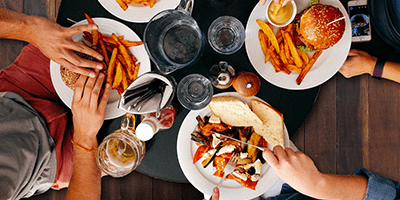 Every year, the autumn season brings color and excitement to Pennsylvania, not to mention the opportunity for culinary enthusiasts to scour farmers' markets and groceries for the local harvest. What creative cook could resist experimenting in the kitchen with ingredients from Lancaster County and surrounding farms?
If you enjoy dabbling with new dishes, try these five great central PA fall recipes. Each one incorporates produce and other items easily found during the months leading up to the end-of-year holidays. These fall-themed recipes give you the chance to taste some authentic PA Dutch food for fall at home, and they may become annual favorites for your family.
1. Enjoy a Central PA Fall Breakfast Recipe
Forget about eating light and jump into a breakfast of eggs and Scrapple, made from a mixture of meat trimmings, seasonings and cornmeal. Scrapple has a huge following among central PA diners who appreciate its unique spicy flavor. Find genuine Scrapple around the area and fry it on a griddle or in a large skillet. It pairs well with eggs done your preferred way or even pancakes. Many locals top Scrapple with maple syrup or even ketchup.
2. Try a Snack Using Local Ingredients
What should you do with all those apples you see this time of year? In addition to a latticework apple pie, you can try your hand at making homemade apple butter or applesauce. An easy way to play around with this dish is to peel, core and slice about 10-12 apples. Boil them in a large pot on the stove until they fall apart. Then, add sugar and a pinch of cinnamon to taste. Continue simmering the apples and sugar until they reach an applesauce consistency. At that point, you can cool the mixture and serve as a snack. You can also continue slowly cooking the applesauce over very low heat, stirring regularly until the mixture turns brown and becomes a thick Apple Butter!
3. Make Lunch a Time for PA Dutch Flavors
What could be a better lunch on a chilly autumn day than some Chicken Corn Soup? Forgo the canned variety and make your own by creating a chicken stock base.
Simply boil a whole chicken with salt, diced celery, diced onions and your go-to stock seasonings until the meat falls off the bone. Allow the chicken and water to cool, then discard bones and unwanted cartilage. Leave only shreds of meat and the stock base. Remove fresh field corn kernels from several cobs and place into the soup. Add some flat, wide noodles. Turn up the heat to cook the corn and pasta. In the final few minutes of cooking, add diced hard-boiled egg for a truly PA Dutch touch!
4. Indulge in a Lancaster County Dinner
You may not have heard of Gumbis before, but it belongs in your recipe book. Gumbis incorporates shredded cabbage, finely sliced onions, finely sliced apples, fall-off-the-bone ham pieces, a stock base and seasonings like bay leaves, savory, coriander, salt and pepper. Like a lasagna, each ingredient is layered systematically in a large baking dish. Then, the entire casserole is covered with seasonings and the stock and baked for about an hour until tender.
5. Dive Into a Classic PA Dessert
Anyone who lives in the south-central PA area has heard of Shoofly Pie. This delicacy marries molasses and other simple ingredients to create a regional dessert with tons of taste and lots of loyal followers. Try this easy to follow, convenient Shoofly Pie recipe to surprise your family and friends tonight! You probably already have everything you need in your pantry to pull off this delectable dessert.
Grab a Taste of Dutch Food this Fall
Feel like cooking another night? Let Forklift & Palate do the hard work for you! Our ever-changing, extensive restaurant and bar menu includes fall-themed recipes you will love! Visit us soon as part of your annual autumn harvest tradition.
Topics: Food