FAMILY DINING
ENJOY FAMILY TIME AT OUR RESTAURANT NEAR LANCASTER AND LEBANON, PA
We all crave family time. Life can get busy. Carving out a few hours you can spend uninterrupted with your family ensures you keep those tight bonds we all need. Going out to dinner as a family offers a wonderful way to get closer — and as a bonus, it frees you up from having to prepare a meal.
If you live near Harrisburg, Hershey or elsewhere in the central Pennsylvania area, consider a trip to Forklift & Palate Restaurant. We are conveniently located in Spooky Nook Sports, a fun place where you can spend family bonding time after you eat by hitting up the arcade or trying out our climbing area.
WHY COME TO OUR FAMILY RESTAURANT NEAR MANHEIM, PA?
We'll tell you why. In fact, we have three great reasons:
1. Everyone will love our food. We serve a selection of American-style favorites, ranging from mac 'n cheese to pasta to steak and potatoes. Your entire family will find something to enjoy on our wide-ranging menu.
2. Parents and kids alike get something special at our restaurant. Moms and dads can enjoy a beer or cocktail from our bar while laughing along with the kids at a shared joke or family memory. Kids get a full menu all to themselves — and a dessert selection so enticing they will finish every bite of dinner to get to those treats.
3. We love hosting special events. Is it someone's birthday? Do you want to hold a family reunion or bridal shower? Our space is perfect for hosting these occasions and more.
ENJOY A MEAL OUT WITH YOUR FAMILY TONIGHT
You should always make time to be with the ones you love. If life has gotten a little crazy lately, slow things down with a night out the whole family can enjoy. If you can't make it for dinner, how about breakfast? We serve a full menu of breakfast favorites that will give your family a rip-roaring start to the day. Check out Forklift & Palate for your next family meal today.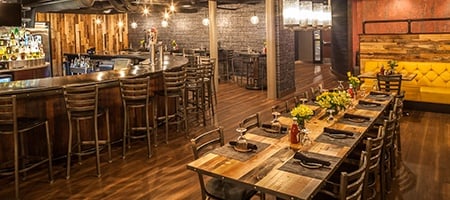 Unique Dining Experience
Enjoy a one-of-a-kind dining experience in a repurposed industrial warehouse.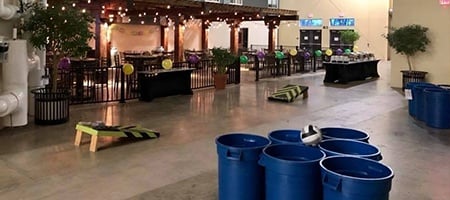 Parties & Events
Are you searching for a party rental space that can host a reunion, anniversary...