When you have a special diet, eating out can be difficult. Restaurant menus often do not list all of a dish's ingredients, and sometimes the wait staff is not fully informed about how menu items are prepared. The Forklift & Palate restaurant aims to give every customer who dines with us a great experience, no matter their dietary restrictions.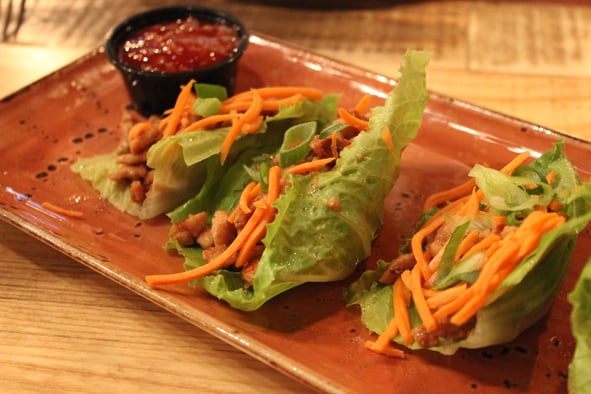 We have menu options for those who follow a gluten friendly diet and those with food allergies. Our menu also has dishes for vegans and vegetarians.
What Do Vegans and Vegetarians Eat?
Our menu options for vegans and vegetarians focus on grains, fruits, and veggies, which make for healthier dining — and even if you aren't vegan or vegetarian, you'll likely still find these dishes delicious!
Both vegetarians and vegans avoid eating meat, and vegans follow additional dietary restrictions by not consuming any animal byproducts. They also avoid using other products (like leather) that came from animals or were tested on animals.
No matter if you're a vegetarian or a vegan, we're sure you'll love our vegan or vegetarian meals at Forklift & Palate! We strive to make sure your meal is prepared to your liking. Upon request, we can remove or substitute ingredients from menu items in order to ensure it falls within a vegan or vegetarian dietary restriction.
Vegetarian Menu Options at Forklift & Palate
You can enjoy a tasty vegetarian meal at any time of the day at Forklift & Palate. Try our French Toast, Buttermilk Pancakes, Waffle or Oatmeal at breakfast. If you include eggs in your diet, you can also order our Vegetable Cheese Omelet.
At lunchtime, you have a wide selection of crunchy and filling salads, like the BBG Salad. If you're looking for something besides a salad, try our Veggie Burger or our Veggie Quesadilla.
When it's time for dinner, order the Squeaky Cheese if you're looking for a lighter meal or the Marinara Pasta. Either choice makes for a great meal to end your day.
Finish off your lunch or dinner (or both!) with a sweet dessert. Try our local, handmade ice cream, creme brulee or ice cream sandwich. Any of our desserts make the perfect conclusion to a great meal.
Vegan Menu Options at Forklift & Palate
Like our vegetarian options, we have several vegan dishes to choose from on our menu.
For a light lunch, try our Roasted Carrot Hummus. Enjoy the smooth, creamy hummus with celery and substitute the pita chips. You could also order the Cabbage & Carrot Power Salad. This crunchy salad option is topped with cilantro and peanuts, and served with sesame seed dressing.
If you want a veggie-packed meal, order the Quinoa Power Salad. You'll get a mix of quinoa, cilantro, black beans, avocado, cotija cheese, corn, and onions, served with cumin & lime vinaigrette.
Enjoy Delicious Vegan and Vegetarian Cuisine
Forklift & Palate is dedicated to ensuring everyone has a delicious and satisfying meal at our restaurant, no matter your dietary restrictions. Contact us today for more detailed descriptions and explanations of how our food is prepared or make a reservation.