7 Touchdown Recipes for the Next Big Game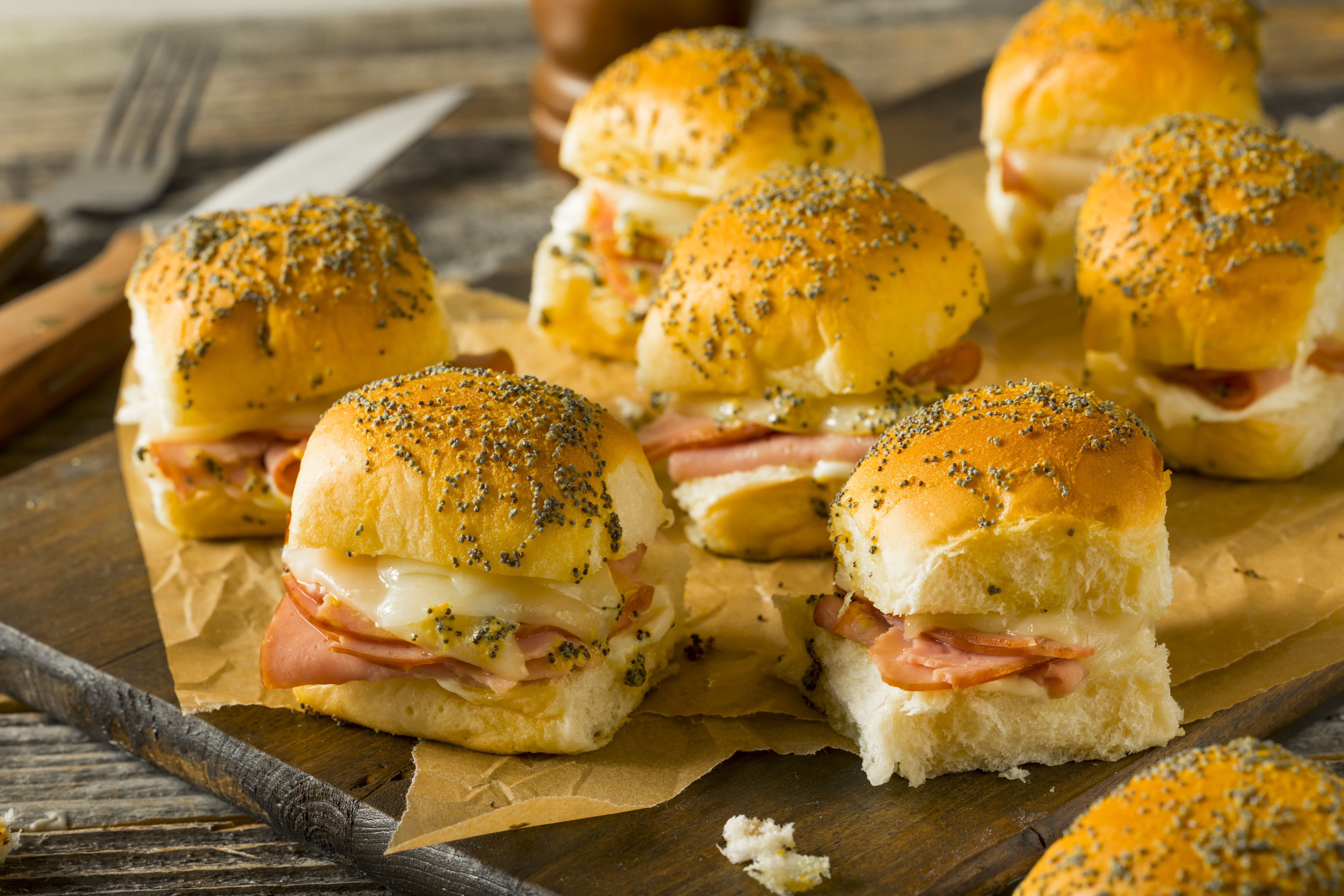 Are you ready for some football? Make your next big game celebration one for the books with one of the recipes below!
HAM AND CHEESE PARTY SANDWICHES
These simplistic Ham and Cheese sandwiches will for sure be a hit at your next party. The ingredients you will need are Hawaiian sweet rolls, deli ham, swiss cheese, butter, Dijon mustard, poppy seeds, minced onion, and Worcestershire sauce. Follow the steps below to easily create this delicious comfort food.
Preheat oven to 350 degrees.
Cut all of your Hawaiian sweet rolls in half.
On all of the bottom halves of the rolls, place a layer of ham and cheese.
Place the second half of the rolls back on top of the layers.
In a bowl, melt down your butter, and add the mustard, poppy seeds, onion, and Worcestershire sauce.
Slowly poor the mixture over the rolls.
Cover the rolls with aluminum foil, and place the into the oven for 20 minutes.
These sandwiches are served best warm, so serve them immediately after taking them out of the oven!
Cauliflower Wings
Cauliflower wings may be the best appetizer for your next big game celebration because they are low in calories, high in fiber, and of course, tasty! You can coat your cauliflower wings in any type of sauce you desire, but today I'll be sharing a buffalo cauliflower wing recipe. The ingredients you will need to make this recipe are cauliflower, oil or butter, hot sauce, garlic powder, and flour.
To prepare your cauliflower wings, first coat all of your cauliflower florets with oil. In a large bowl or Ziploc bag, combine the flour and garlic powder. Toss the oiled floret pieces into the bowl or bag, and begin shaking. In a separate bowl, combine melted butter and buffalo sauce. Dip each piece of cauliflower into the mixture, and place them on a baking pan. After all cauliflower have been nicely coated with flavor, place the baking pan into the oven at 425 degrees for 15 minutes.
Cookiedilla
The Cookiedilla is the perfect sweet treat for game time. The three ingredients you will need to create this masterpiece of a dessert are marshmallow fluff, chocolate chip cookie dough, and chocolate chips. Feel free to adjust these ingredients based off of your personal favorites. A few other great alternatives to use in this recipe would be peanut butter, hazelnut spread, or caramel sauce.
To create the Cookiedilla, first heat your oven to 350 degrees. While your oven is preheating, divide your cookie dough into two large balls. Flatten each ball into a disk shape, and place it onto a pan. Bake the cookies in the oven for 15-20 minutes, until golden. After the cookies have cooled, begin spreading the marshmallow fluff and chocolate chips on the bottom of one cookie. Place the cookies together in a sandwich formation, and put it back into the oven. After 3-4 minutes, you Cookiedilla will be ready to serve!
Bacon Avocado Fries
It's a proven fact that it's impossible for someone to say no to anything wrapped in bacon. These bacon avocado fries will definitely have your guests begging for more! The ingredients you will need for this recipe are avocados, bacon and ranch dressing.
The first step you will take to create the bacon avocado fries are to slice each avocado into 8 equally sized wedges. Wrap each wedge in a strip of bacon. Before placing all of your wrapped avocado pieces on a baking pan, spray it with oil. Place the baking sheet into the oven for 8-10 minutes at 425 degrees. After you remove the slices from the oven, serve them warm with ranch.
Buffalo Chicken Dip
It's not a football party without buffalo chicken dip! To create this dip, you will need cream cheese, a chicken breast, buffalo sauce, ranch, and Colby Jack cheese. This recipe should only take you around thirty minutes to create.
First, you'll need to spread one package of cream cheese into a baking dish. Layer the chicken, buffalo sauce, ranch dressing on top. Finish layering this dip with (a lot) of cheese. Place your dish into the oven at 350 degrees for 25 minutes, until all of the cheese is completely melted. You can serve this dip with bread slices, carrots, celery, or chips. Enjoy!
Jalapeno Poppers
Bring some heat to your next football party! A few ingredients you'll need to make Jalapeno Poppers are jalapenos, cream cheese, garlic powder, cheese, and chives. Follow the steps below to whip up this perfectly spicy appetizer within 30 minutes.
Preheat the oven for 400 degrees.
Slice the jalapenos in half lengthwise and scoop out the center. (Make sure to wear gloves for this step!)
In a bowl, mix the cheese, garlic powder, cream cheese, and chives together.
Fill the mixture into each half of the jalapenos.
Place the jalapenos onto a baking pan, and into the oven for 15-20 minutes.
Smores Nachos
Smores Nachos are the easiest dessert you will ever make! Only ten minutes and three simple ingredients. The ingredients you will need for this recipe are graham crackers, marshmallows, and tons chocolate chips. Use a cast iron skillet or a oven safe dish/pan to cook your Smores Nachos in.
To cook your Smores Nachos, heat up your oven to 350 degrees. Fill either a cast iron, cake pan or casserole dish with layers of chocolate chips, graham crackers and marshmallows. After layering your ingredients, place the pan into the oven for 10-15 minutes.
---
Providing a unique opportunity to dine, stay and play in the country's largest sports complex, Forklift & Palate creates new twists on classic favorites like grilled cheese, wings and more. Whether you're stopping in for a meal, snack, or cocktail with friends, you'll find something to meet everyone's tastes on the menu at Forklift & Palate.
Topics: Food