5 Tips for Planning an Enjoyable and Professional Business Dinner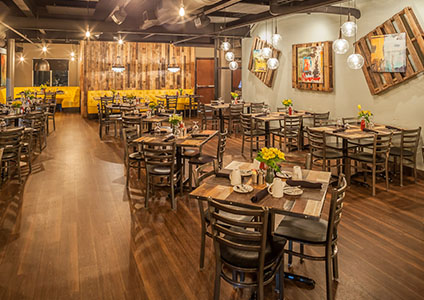 Business dinners give you the opportunity to get to know your professional partners on another level. Free from the office trappings, these special events encourage conversation and promote rapport.
To help ensure your next dinner with colleagues and clients goes off without a hitch, we have developed five tips on how to plan an enjoyable business dinner. Keep them in mind and your evening will surely be a success!
Tip #1: Choose Your Restaurant Carefully
Although you might be tempted to make reservations at a busy sports bar, think twice. Restaurants that feature a lot of activity and incorporate televisions into their ambiance can be great for one-on-one meetings, but they may not be appropriate for a professional business dinner.
If you want people to get to know each other, choose an eatery with a pleasant environment that encourages conversation. That way, everyone in your dinner party can feel comfortable and not overstimulated. Both introverted and extroverted guests can find something to talk about if the mood is lively without being too intense.
Tip #2: Talk About Dress Expectations in Your Invite
Many people have never been to a classic professional business dinner and may be unsure of what to wear. This is where you come in as the host.
When you send the invitation, make a note about the dress expectations. Think about what makes sense for the surroundings and for your industry. Regular office attire can be appropriate, or you may want to specify business dressy or business casual.
Tip #3: Investigate Business Dinner Menu Options
Ideally, the restaurant you pick for your upcoming business dinner should offer an attractive menu that can appeal to everyone on your guest list. This might include vegans and vegetarians, as well as individuals with food sensitivities, food allergies, and other dietary restrictions.
In general, the more varied the choices, the better. However, you do not need to pick an eatery that has a book-like menu. One with just enough different selections will be fine and should provide enough variety for everyone in your dinner party.
Tip #4: Consider the Date and Time for Your Dinner
Depending on how many people will be at your dinner party, you may want to ask them for calendar ideas. That way, they can let you know if certain nights of the week or times are impossible to make due to other commitments.
Generally, business dinners should be held during the week rather than on the weekend. Make the start early enough so everyone can easily get to the dinner from their workplaces without being too late for early-to-bed folks.
Tip #5: The Guest List Matter When Planning a Successful Business Dinner
Finally, give your guest list serious thought. Think about personalities and the way everyone is likely to get along. Consider creating a seating chart to foster better cross-pollination of discussion and fuel interesting conversations, particularly if you have a lot of people coming to your dinner and will be seated at a few tables.
Of course, if you are looking for the perfect place to have an enjoyable business dinner in central PA, we welcome you to try Forklift & Palate! Our restaurant and bar feature a unique ambiance ideally suited to leisurely evening meals. Stop by with your coworkers, partners and key customers soon!